The 8051 is one of the most flexible and widespread microprocessor families. Originally conceived by Intel as small microcontrollers at the beggining of the '80s, the architecture has been outsourced by a dozen or more of other manufacturers, evolved into hundreds of variants with A/D, D/A, serial, memory, and specific peripherals, and even integrated as CPU module in ASIC components.
Download Data Sheets of x51 family components (2003)
L&R Ingeniería has experience in boards and both assembly and C programming of the following variants: 8031, 80C31, 80C32, 80C535 and 80C537 (Siemens), and 89C51 (Atmel).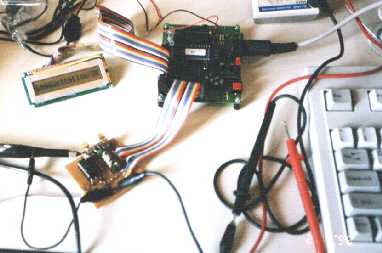 Figure 1: 80C535 Development project.